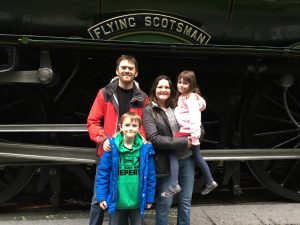 After nine long years of searching Alex finally found The Flying Scotsman. Each visit to the National Railway Museum in York had included a search for this famous locomotive ever since he was able to walk. We found an exhibition but no loco. We saw the chassis and wheels in the workshop but the rest was missing. This year, finally, the rebuilt engine steamed into York and took it's place in the national collection. Alex was so excited, not only to see the old express engine but to stand in the cab too. Three cheers for everyone who put all the pieces back together in working order.
Not far from this tree stump, in Studley Park near Ripon, was an even older tree stump turned child's seat that Wesley once enthroned himself upon as a small boy. Can you spot any resemblance?
Promenaders
Matthew and Laura took us to The BBC Proms in the Royal Albert Hall this summer. What a treat. Sitting in a box, that can only be described as better placed than the one frequented by Her Majesty, we enjoyed the music and the spectacle that lay before us.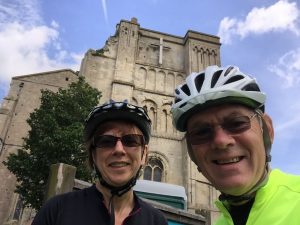 A house swap in June let us stay in Royal Wooton Bassett for a week. We cycled, walked and simply stopped to read whenever we liked. The weather wasn't too good except for this one day when we cycled to Malmesbury Abbey. We walked on The Ridgeway, visited Lydiard Park and on a really wet day, when we just had to get out,  a Butterfly Sanctuary.